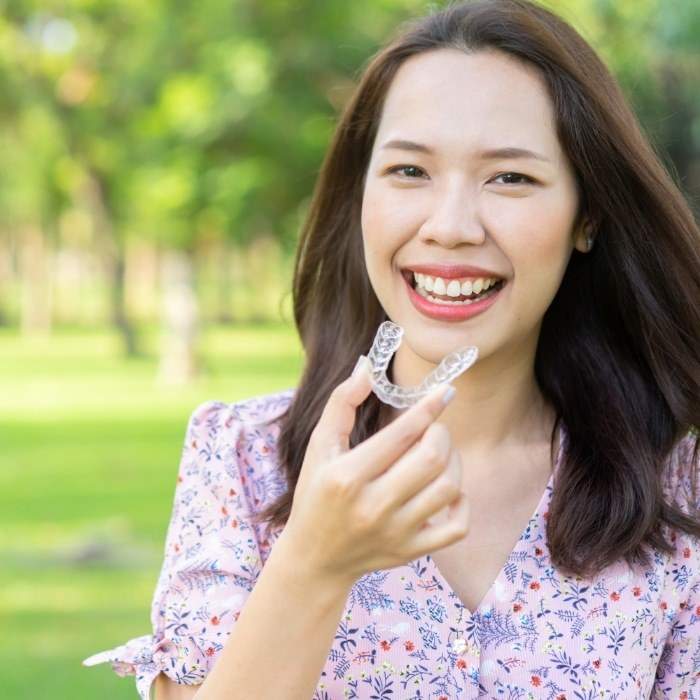 Invisalign in Mckinney, Frisco and Prosper area : Achieve a Confident Smile with Clear Aligners
Our dental practice offers this innovative orthodontic treatment to help you achieve a confident smile without the need for traditional metal braces.
Our custom-made aligners are virtually invisible when worn, allowing you to discreetly improve your smile without anyone knowing.
The Advantages of Invisalign
Invisalign in Prosper, McKinney, Frisco offers numerous benefits over traditional braces. Firstly, the aligners are removable, which means you can easily take them out to eat, brush, and floss, ensuring optimal oral hygiene throughout the treatment. The smooth and comfortable aligners eliminate the discomfort and irritation often associated with metal brackets and wires.
The Invisalign Process
Our proficient dentist - Dr.Patel will evaluate your teeth and discuss your treatment goals. Using advanced 3D imaging technology, we will create a customized treatment plan, mapping out the precise movements of your teeth from start to finish. You will receive a series of aligners, which you will switch out approximately every two weeks as your teeth gradually shift into their desired positions.
Maintaining Oral Health with Invisalign
Maintaining good oral health is simple. You can remove the aligners to brush and floss your teeth just like you normally would. This allows for effective plaque removal, reducing the risk of tooth decay and gum disease. It is important to wear the aligners for the recommended 20 to 22 hours per day to ensure optimal treatment results.
Experience the Benefits of Invisalign in Prosper
If you're seeking a discreet and convenient way to achieve a straighter smile, Invisalign is the ideal solution. Our dental team is dedicated to providing personalized orthodontic care to help you achieve the smile of your dreams.
Book an Appointment at Outlook Dental today.
We have happy Dental customers of Dental Invisalign Treatment Clear Aligners from McKinney, Prosper, Allen, Frisco, Plano, Wylie, Sachse, The Colony, Little Elm, Richardson, Addison, Garland, Rowlett, Carrollton, Rockwall, Lewisville, Farmers Branch and throughout North Dallas Texas.
For more detail, Contact us at (945) 224-0070