Creating Dazzling Smiles
As Vital As It Is To Have A Healthy Mouth, It's Also Important To Be Proud Of Your Smile. If You're Less Than Confident About Your Pearly Whites, Get In Touch With Our Team At Outlook Dental To Learn About Your Options For Cosmetic Dentistry From Our McKinney, TX Cosmetic Dentist. As A Highly Experienced Dentist, Dr. N. Patel Has Mastered The Artistry Required To Give You A Healthy, Dazzling Smile That You Just Can't Wait To Show The World!
Why Choose Outlook Dental
for Preventive Dentistry?
Caring Dental Team Providing World-Class Customer Service
Experienced Dentist with an Artistic Touch
Digital Impression Technology for Enhanced Comfort & Accuracy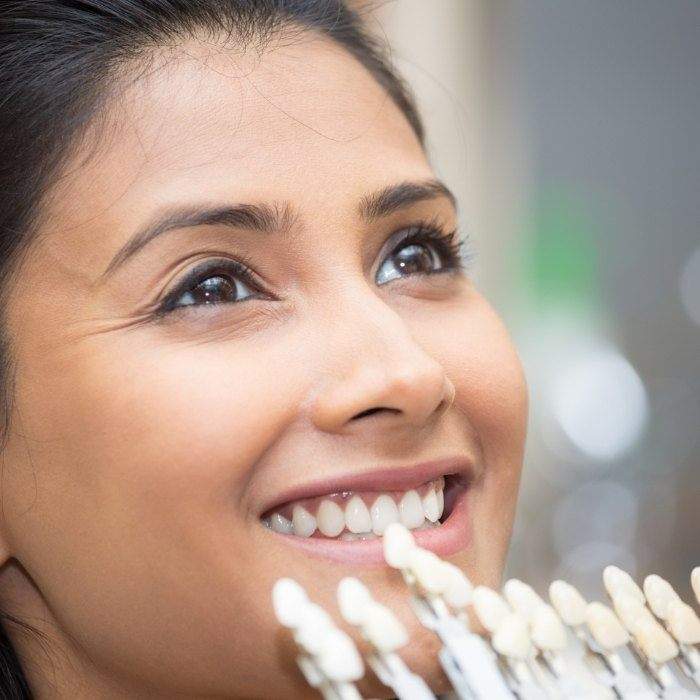 Porcelain Veneers
Many stars of the silver screen have veneers to thank for their red-carpet-ready smiles. Veneers are thin porcelain sheaths that cover the front-facing side of a tooth. Once placed, veneers make stubborn discoloration, chips, gaps, and misshapenness instantly disappear, leaving only a flawless grin in their wake. Whether you wish to improve a single tooth or transform your whole smile, veneers can provide gorgeous, long-lasting results.
Metal-Free Dental Crowns
With dental crowns made from zirconia or EMAX, you don't have to sacrifice your smile's natural appearance just to repair a damaged tooth. These materials don't contain any metal, and they can be shaded to the exact color of your surrounding teeth. As a result, the people around you shouldn't even be able to tell the crown apart from any other tooth.
Cosmetic Dental Bonding
Even a tiny crack, gap, or stain can impact your confidence in your smile. As a faster and more affordable alternative to veneers, cosmetic dental bonding is ideal for fixing minor aesthetic issues in the teeth. All Dr. N. Patel needs to do is clean the tooth, cover the offending flaw with a small amount of composite resin, and harden it with a special curing light. The whole process should only take an hour or so at most, but it can make a huge difference in your self-esteem.
Teeth Whitening
Store-bought teeth whitening products rarely deliver the results you want, but at Outlook Dental, we have two options for eliminating stubborn tooth stains. In-office teeth whitening can drastically brighten your grin in a single appointment, while our take-home whitening kits let you enjoy the same results at home with a more gradual timeline. Both solutions are much more comfortable, effective, and safer than what you'll find at your local pharmacy.